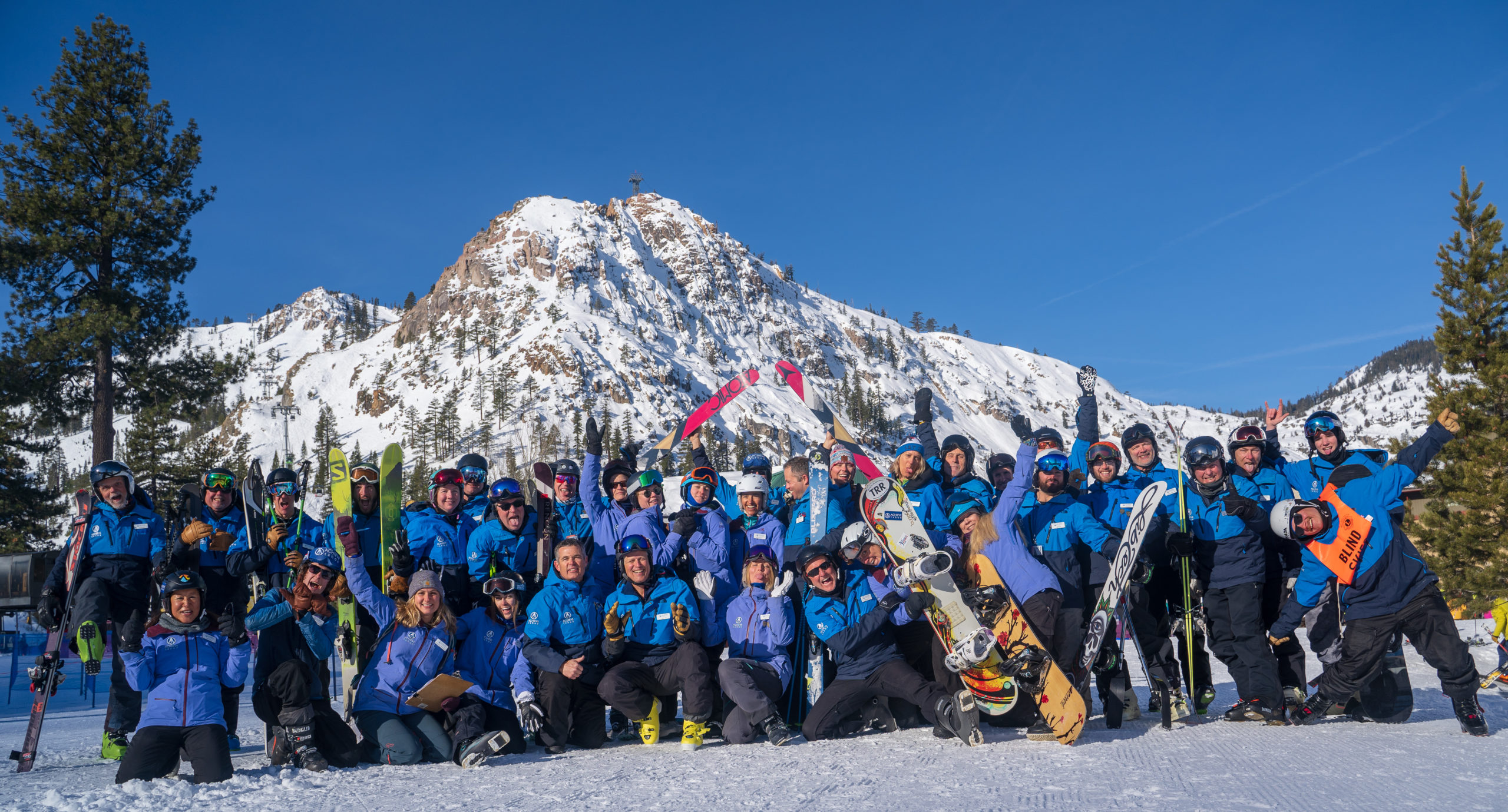 Opportunities
Summer Sports Volunteer
Applications for 2023 Summer Sports Volunteers now OPEN!
Our summer programs include climbing, equestrian, hiking and archery, sailing, Sierra Summer Sports, and water skiing. Please click on each program below to learn more about its specific volunteer requirements.
Location: TBD
Description: Climbing volunteers will teach participants climbing techniques, rope management, and safety communication during adaptive climbing lessons. Volunteers will also set up, break down, and inventory equipment at the end of the day.
Requirements: No climbing experience is required; however, 1 day of training is required for all volunteers.
Location: Tahoe Donner's Alder Creek Adventure Center
Description: Volunteers will guide participants in a holistic adaptive equestrian experience, emphasizing horsemanship-skills, human-horse interaction, and in some cases, horse-riding.
Requirements: There are two equestrian volunteer roles - Horse Handlers and Sidewalkers. Horse handlers must know how to groom, tack, and catch a horse in pasture while demonstrating an aptitude for working with horses. Sidewalkers do not need to have extensive horse experience but must be comfortable walking and standing next to horses. All equestrian volunteers must be able to walk/jog in sand for up to two hours. 1 day of training is required for all volunteers.
Location: Various locations throughout the North Lake Tahoe area
Description: Volunteers will guide participants on accessible hikes in the Tahoe area. Some hikes will be followed by archery sessions at the same site as the hike. For archery days, hiking volunteers will stay after hiking, helping set up, supervise, and break down our portable archery range.
Requirements: 1 day of training is required for all volunteers.
Location: Obexer's Boat Company, in Homewood, CA
Description: Volunteers will rig, launch, and retrieve vessels, and instruct sailing to participants.
Requirements: There are two possible volunteer roles in the sailing program - lead and assistant instructors. Lead sailing instructors must have a current Level 1 Small Boat Instructor Certification from US Sailing or above, experience working with people with disabilities, as well as the ability to help transfer an adult participant. Assistant sailing instructors must possess strong sailing skills, including the ability to independently sail a small boat. All sailing instructors must have strong swimming skills and be comfortable in the water for extended periods of time. 1 day of training is required for this volunteer position.
Location: West End Beach on Donner Lake
Description: Volunteers will provide paddle sports instructions to our participants and their families, and chaperone tube and seadoo rides. Volunteers will also assist in the set up and tear down of the program, which includes hauling kayaks and paddle boards to and from the beach.
Requirements: All volunteers must have strong swimming skills and be comfortable in the water for extended periods of time. 1 day of training is required for all volunteers.
Do you own a boat and want to volunteer as one of our boat drivers? Contact [email protected] for more information.
Location: Wake Island Waterpark, in North Sacramento,
Description: Volunteers will fit participants into the proper gear and provide instruction in adaptive waterskiing learned through training, as well as assisting in the set up and tear down of the program.
Requirements: Prior waterski experience is not necessary; however, you must be a confident swimmer and comfortable in the water for long periods of time. 2 days of training are required for new volunteers.
Please contact vo[email protected] or 530-581-4161 x 5 with any questions.
Winter Adaptive Snowsports Volunteer
Applications for 2023-2024 Snowsports Volunteers open August 2023
Snowsports volunteers provide specialized adaptive instruction for people with disabilities, working on a personal level to help students successfully learn to ski or snowboard. Candidates must be intermediate skiers or higher, must be comfortable working with people with diverse backgrounds, and must be physically fit and able to lift a student multiple times during the course of a lesson. Achieve Tahoe provides free training and support. Instructors are asked to commit a minimum of 10 days over the snowsports season, running from December to April.
Contact vol[email protected] or 530-581-4161 x 5 with any questions.
Fundraising and Leadership
Individual donors are critical to our success. Become a donor and help us acquire new donors via your networks. Achieve Tahoe is always looking for motivated and dedicated members of the community to join our Board of Directors. Applications accepted year-round.
Contact Haakon Lang-Ree, Executive Director at 530-581-4161 x1; [email protected].
Special Events
Special events are a vital source of funding and support, as well as a great way to get the word out about our programs. Volunteers staff committees and events, help secure silent auction prizes, solicit sponsors, help decorate, hang banners, distribute flyers, prepare food, sell event and raffle tickets, and help with event setup and breakdown. Applications accepted year-round.
Contact Haakon Lang-Ree, Executive Director at 530-581-4161 x1; [email protected].
Equipment Maintenance and Repair (Winter and Summer)
Clean, maintain, and repair our large inventory of adaptive equipment. Applications accepted year-round. Contact Scott Behrens, Program Coordinator, at 530-581-4161 x8; [email protected].
Internships
We accept applications for our winter internship in late summer/early fall, and encourage anyone with a focus (academic or otherwise) in recreation therapy, recreation management, adaptive physical education, outdoor leadership, health sciences, or other related fields to apply. We are seeking committed, highly motivated, hardworking, flexible, self-starters to fulfill our internship positions. Our friendly and dedicated staff is eager to work with the next generation of adaptive recreation professionals.
CLICK HERE for more information.
FAQs
Who can apply to be a volunteer?
Anyone over the age of 16.
When does volunteer training start?
Mandatory volunteer training takes place at the beginning of each program season. For snowsports, training starts in early December. For summer sports such as water skiing and paddling, training starts in May. Please check the volunteer job description for the program you are interested in for specific dates.
What if I can't attend the training day?
Training is mandatory for the safety and well-being of our participants and the experience we provide. Sometimes there is an option to find an alternate training date, but that is not guaranteed.
Do I have to have experience teaching people with disabilities?
No! Volunteers all share a passion and commitment to increasing access to outdoor recreation for people with disabilities. You will learn the necessary skills at training.
How often do I have to volunteer?
The volunteer commitment varies based on the program. Snowsports volunteers must commit to 8 days through the winter season. Summer program volunteers must commit to 5 days through the summer season.
I submitted my volunteer application. When will I hear back?
You will receive an email from the Volunteer Coordinator within a week of submitting your application.
Is everyone accepted as a volunteer?
No. All volunteers will complete a phone interview with a program staff member. The size of the volunteer team is limited, so if there is not space for a program during one season, you may be asked to join us the following season.
Is transportation provided for volunteers?
No. All volunteers must have their own, reliable transportation to arrive at each program location.
Can I get school or community service credit for volunteering at Achieve Tahoe?
Yes! We are happy to sign off on all hours that you volunteer with the program.
Are volunteers required to complete a background check?
Yes. Organized sport can be an environment at high risk for misconduct, including athlete physical and sexual abuse. Achieve Tahoe is committed to the safety of all those who participate in our programs. We have implemented a strong Sport Protection Policy to better protect our participants. Our Sport Protection Policy increases our community's knowledge base, creates stronger detection and protection systems for our programs, and establishes barriers to entry for abusers. This policy is specific to all services provided directly through Achieve Tahoe, including special events, sports and outdoor recreation programs, and related activities.
What other training is required?
In addition to the background check, volunteers are required to complete an online training course provided by US CENTER FOR SAFE SPORT. If you would like more information about these policies, click HERE.
I have more questions. Who can I talk to?
How To Apply
Step 1: Complete a volunteer profile on MyImpactPage.
Step 2: An Achieve Tahoe staff member will contact you once your profile has been completed.
Applications are accepted year-round, however there are some deadlines based on program needs and training dates.
All volunteers must:
Be 16 years old or older.
Have reliable transportation to and from program and event venues.
Have the personal equipment needed in some program areas (e.g. skis, helmets) and, in some cases, a minimum proficiency in the sport.
Complete all required training and fulfill a commitment to a minimum number of hours or days of service (varies by activity).
For some programs, pay a nominal administrative and training fee once selected to volunteer.
Complete an Insurance Waiver and Release of Liability form once selected to volunteer.
Pass a Criminal Background Check once selected to volunteer.
Complete the SafeSport online training course.