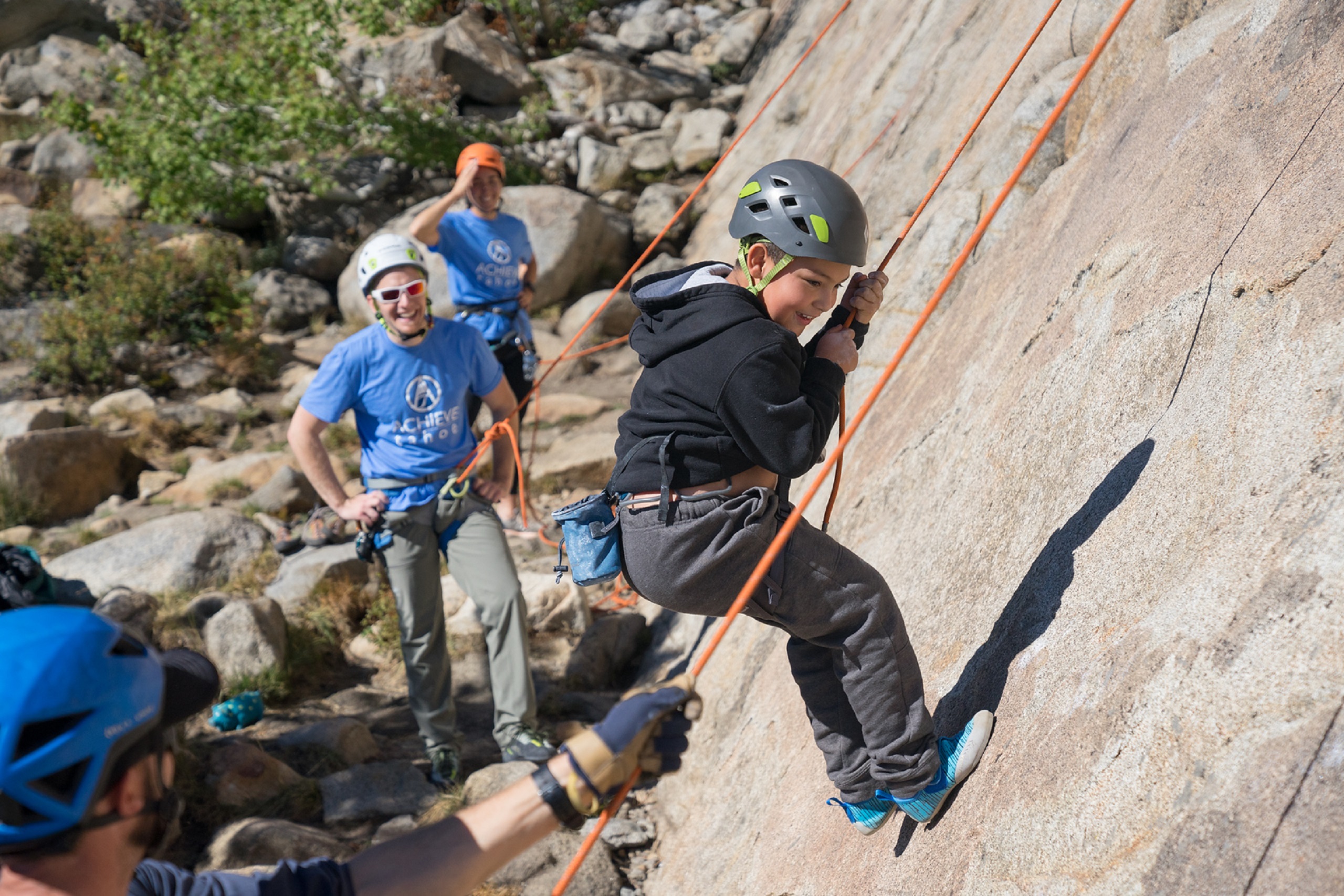 About
Learn to climb with Achieve Tahoe. Participants will work one-on-one with an instructor to learn climbing techniques, rope management, and safety communication. Our staff and volunteers are ready to help people of all abilities and skill levels achieve their climbing goals.
2023 Schedule & Rates
Schedule
Dates
Indoor Climbing*
July 7, 8, 14, 15, 21, 22, 28, and 29
August 4, 5, 11,12, 18, and 19
September 15, 16, and 29
October 6 and 13
Outdoor Climbing
September 10 and 24
October 15
*All indoor climbing sessions can be paired with an Archery session and/or a Hiking session to make a full day of activity
Time
Indoor Climbing: 1:30 pm – 3:30 pm
Outdoor Climbing: 1:00 pm – 3:00 pm
If cost is a barrier to you ability to participate with Achieve Tahoe, please apply for a scholarship.
Policies
SICKNESS POLICY: For the protection of staff, volunteers and all other participants, we ask that anyone who has or exhibits any of the following please refrain from participating in our programs or activities:
Fever
Headache
Sore throat
Lice
Nausea
Diarrhea
Earache
Chicken Pox
Congestion
Cough
Runny Nose
Any other contagious illnesses/diseases including influenza or COVID-19

Many of our participants have compromised immune systems, and exposure to viral and/or bacterial infection could have serious consequences. If Achieve Tahoe determines that a participant is too sick to participate, parents or emergency contacts of that person will be notified and are responsible for pick-up within a reasonable time-period.
CANCELLATION POLICY: Please give notice of cancellation at least 24 hours in advance to receive an Achieve Tahoe credit, which can be used towards any future Achieve Tahoe Program.  
If you are sick, or feeling sick, please contact Achieve Tahoe to cancel your reservation as far in advance as possible, and before the start of the program. In the case of illness, you can either:
Request a credit, which can be used towards any future Achieve Tahoe Program
Request a refund, minus at 15% processing fee.
Eligibility
For the health and safety of our community, in order to participate in the Achieve Tahoe Climbing Program, a participant must meet the criteria listed below.
If the participant has had a traumatic injury, or surgery/medical treatments that affected your activities of daily living in the past 12 months, they can only participate with a doctor's release stating that they have been cleared to participate in high-risk sports.
If help is needed with bladder or bowel routine, feeding tube, or administering prescription medications care provider or family member will be present to assist.
Participant must be able to breathe independently without any medical devices that sustain breathing.
For participants with Down Syndrome, the participant must have been examined by a physician for Neurologic Symptoms of Atlantoaxial Instability, found the symptoms to be absent, and has been cleared to participate in high risk sports.
Location of Climbing Program
Indoor Climbing: Headwall Climbing Wall (inside the Tram Building at the Base Area of Palisades Tahoe), 1960 Olympic Vly Rd, Olympic Valley, CA 96146
Outdoor Climbing: School Rock, Donner Summit
Sign Up
Please complete and return the following forms to sign up for Climbing.
Liability Releases 1, 2, 3, and 4
Once you have completed all your forms, you will be sent a link to sign up for summer programs starting May 9, 2023.
If you have any questions about this program or the reservations process, please call us for assistance at 530.581.4161 x 6.
If cost is a barrier to your ability to participate with Achieve Tahoe, please apply for a scholarship.