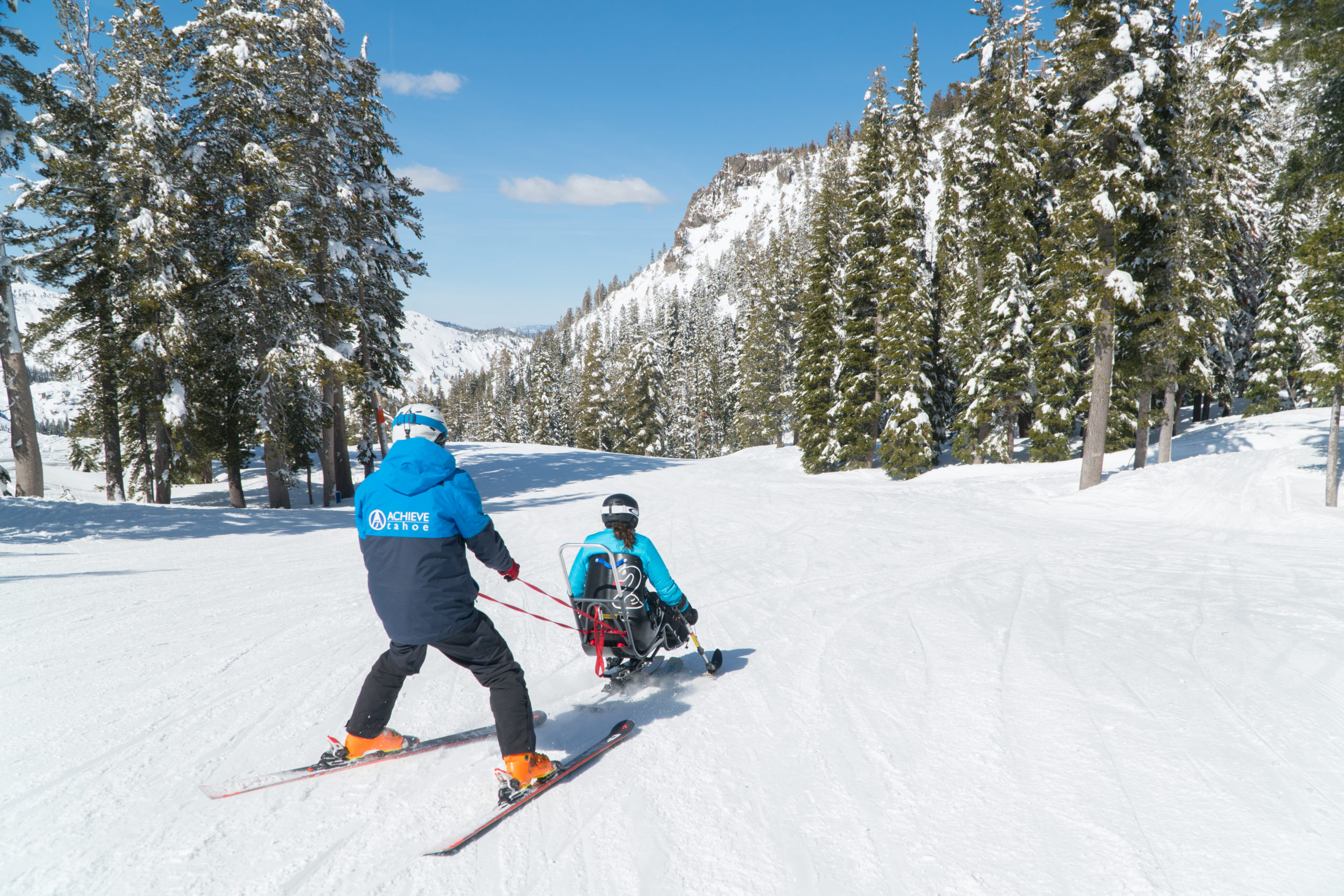 Scholarships
2023-2024 Scholarship Application Coming Soon!
Before scheduling please apply for scholarship funds.
Achieve Tahoe members with extreme financial needs may apply to waive the fees for participation in our sports programs thanks to our Katherine Hayes Rodriguez Scholarship Fund. Scholarships are available on a first come-, first served- basis and are limited by the amount of money available annually in the fund. Achieve Tahoe reserves the right to review documentation of your income prior to approval of your application.
For more information about our scholarship program, please call our Program Center at (530) 581-4161 x6 or email [email protected].
Donate to the Fund
Your donation covers the out-of-pocket fee for our students in any of our winter or summer programs. It enables people with disabilities to go beyond their perceived limits and gain a sense of accomplishment that can transform their lives. $100 is the minimum donation to cover the cost of participation in any summer program. $250 covers our costs for a snowsports lesson. Larger donations will help to maintain our Katherine Hayes Rodriguez Scholarship Fund.
Click the donate button below to donate online now using our secure service!
Merchandise
Show Off Your Support of Achieve Tahoe!
Achieve Tahoe logo wear is available for purchase. Shop in-person at the Achieve Tahoe Program Center at Alpine Meadows or click on the link below to see the list of products. All items are subject to availability.
Thank you to our Tahoe-based apparel company partners:
Lodging in the Tahoe Area (ADA Included)
Lodging close to Achieve Tahoe
There are plenty of lodging options near Achieve Tahoe. Start your search in these areas: Alpine Meadows, Olympic Valley, Truckee, Tahoe City, and Kings Beach. 
Listed below are wheelchair accessible accommodations in these areas as well.
ALPINE MEADOWS
TRUCKEE
The Inn at Truckee (5 ADA Rooms)
11506 Deerfield Drive
Truckee, CA 96162
(530) 587-8888
Truckee-Tahoe Inn/Best Western (2 ADA Rooms)
11331 Hwy 267
Truckee, CA 96162
(530) 587-4525 / (800) 824-6385
River Street Inn (1 ADA Room)
10009 East River St.
Truckee, CA 96162
(530) 550-9290
Holiday Inn Express (4 ADA Rooms)
10527 Cold Stream Rd.
Truckee, CA 96161
(530) 582-9999
Hampton Inn (5 ADA Rooms)
11951 State Highway 267
Truckee, CA 96161
(800) 928-0435
Cedar House Sport Hotel (2 ADA Rooms)
10918 Brockway Rd.
Truckee, CA 96161
(530) 582-5655
Truckee Donner Lodge (4 ADA Rooms)
10527 Cold Stream Rd.
Truckee, CA 96161
OLYMPIC VALLEY
Resort at Squaw Creek (4+4 ADA Rooms)
400 Squaw Creek Rd.
Olympic Valley, CA 96146
(530) 583-6300 / (800) 327-3353
Olympic Village Inn (1 ADA Room)
1909 Chamonix Place
Olympic Valley, CA 96146
(530) 581-6000 / (800) 845-5243
PlumpJack Inn  (3 ADA Rooms)
1920 Squaw Valley Rd.
Olympic Valley, CA 96146
(530) 583-1576 / (800) 323-7666
Red Wolf Lodge at Squaw Valley (2 ADA Rooms)
2000 Squaw Valley Rd.
Olympic Valley, CA 96146
(530) 583-7226
TAHOE CITY
Granlibakken (7 ADA Rooms)
625 Granlibakken Rd.
Tahoe City, Ca 96145
(530) 583-4242 / (800) 543-3221
River Ranch (1 ADA Room)
Hwy. 89 & Alpine Meadows Rd.
Tahoe City, CA 96145
(530) 583-4264 / (800) 535-9900
Sunnyside Lodge (1 ADA Room)
1850 West Lake Blvd.
Tahoe City, CA 96145
(530) 583-7200 / (800) 822-2SKI (2754)
Tahoe City Inn (1 ADA Room)
790 North Lake Blvd.
Tahoe City, CA 96145
(530) 581-3333 / (800) 800-8246
Peppertree Inn (2 ADA Rooms)
645 North Lake Blvd.
Tahoe City, California 96145
(800) 624-8590
The Cottage Inn (1 ADA Room)
1690 West Lake Blvd.
Tahoe City, CA 96145
(530) 581-4073
Tamarack Lodge Motel (1 ADA Room)
2311 North Lake Blvd.
Tahoe City, CA 96145
(530) 583-3350
TAHOE VISTA – KINGS BEACH
Firelite Lodge (2 ADA Rooms)
7035 North Lake Blvd.
Tahoe Vista, CA 96148
(530) 546-222
Mourelatos Lakeshore Resort (2 ADA Rooms)
6834 North Lake Blvd.
Tahoe Vista, CA 96148
(530) 546-9500
Red Wolf Lakeside Lodge (1 ADA Room)
7630 North Lake Blvd.
Tahoe Vista, CA 96148
(530) 546-6262
Tahoe Edgelake Beach Club (3 ADA Rooms)
7680 North Lake Blvd.
Tahoe Vista, CA 96148
(530) 546-5974
Ferrari's Crown Resort (2 ADA Rooms)
8200 North Lake Blvd.
Kings Beach, CA 96143
(530) 546-3388
Stevenson's Holiday Inn (2 ADA Rooms)
8742 North Lake Blvd.
Kings Beach, CA 96143
(530) 546-2269
Tahoe North Shore Lodge (1 ADA Room)
201 Carnelian Bay Ave
Carnelian Bay, CA 96140
(530) 546-3425